You got engaged? Congratulations! And what now?
Planning a wedding can be a heavy task and sometimes engagement photos can seem like just another thing on the to-do list. But they can actually be an important aspect leading up to the big day. Here's my Bali photography guide as a professional photographer to make sure that your engagement photos capture your personalities and this monumental time in your lives.
Bali Photography Guide | Before the Shoot
Where to Take Your Engagement Photos in Bali
There were so many locations in Bali that you can pick for your engagement or prewedding. The varied landscape of hills and mountains, rugged coastlines and sandy beaches, lush rice terraces, dramatic waterfalls, all providing a picturesque backdrop to it's a colorful, deeply spiritual, and unique culture.
What Time is The Best Time for Shooting in Bali
I photograph almost all portrait sessions using only natural light. I do this because this type of light makes for some stunning photographs! For a session North or Central Bali like Kintamani, Ubud, Bedugul I will start so early from six or seven am. It's the timing when the sunrise starting to appear, where the light is the "dreamiest". At most of the waterfall, and forest, we can start more later around nine or ten am as the location is under the shade.
For most of the South Bali area, I prefer to do the session on sunset. Most of these spots are at the beaches of cliffs, so nothing can beat the beautiful sunset view. I begin all portrait sessions approximately four or two hours before the scheduled sunset during "the golden hour".
What to Wear on Your Bali Engagement Session
The outfit is also an important part of your engagement photos. If you're having a difficult time deciding what to wear for your engagement photos in Bali, please check my guidance below! You can bring multiples outfits too if the shoot duration more than one hour.
For Her – Say Yes to The Dress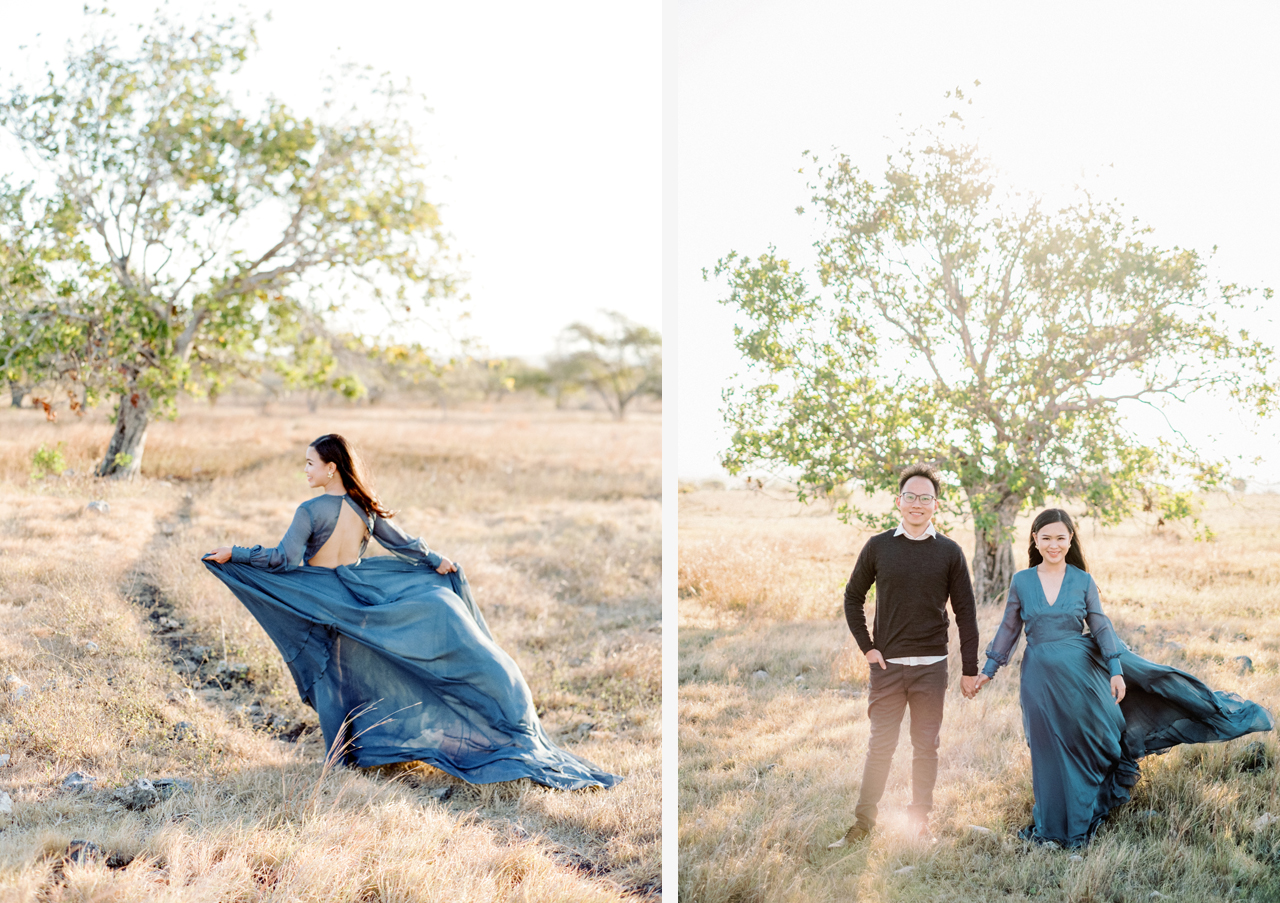 Long, flowy dresses and skirts look amazing on camera because they bring extra movement to the photos. Dresses and skirts tend to look most stunning on camera because they really look flatter. We recommend avoiding pants and shorts for your session. As we'll shooting mostly in nature, avoid high heels, however, if you really want to wear it please bring a pair of easy-to-kick-off flats to wear when moving from place to place in between photos.
For Him – The Details

Long pants and closed-toed shoes are the most sophisticated and masculine looks for men. They draw attention away from his legs and feet and place it where you want it: on the face, you fell in love with. Short pants also work at more casual sessions on the beach. Ties, bowties, pocket squares, colored socks, belts, tie clips, suspenders, vests, and watches are sharp compliments to any suit.
Choosing Colour
I can work on any kind of outfit color, light, or a pop color. I used to recommend my client to wear earthy or soft muted tones but recently my client wore a bright red or a pop of orange it turns out great too! Also, try to avoid any patterns smaller than a dime. The camera doesn't like these patterns and it always creates weird effects when photographed.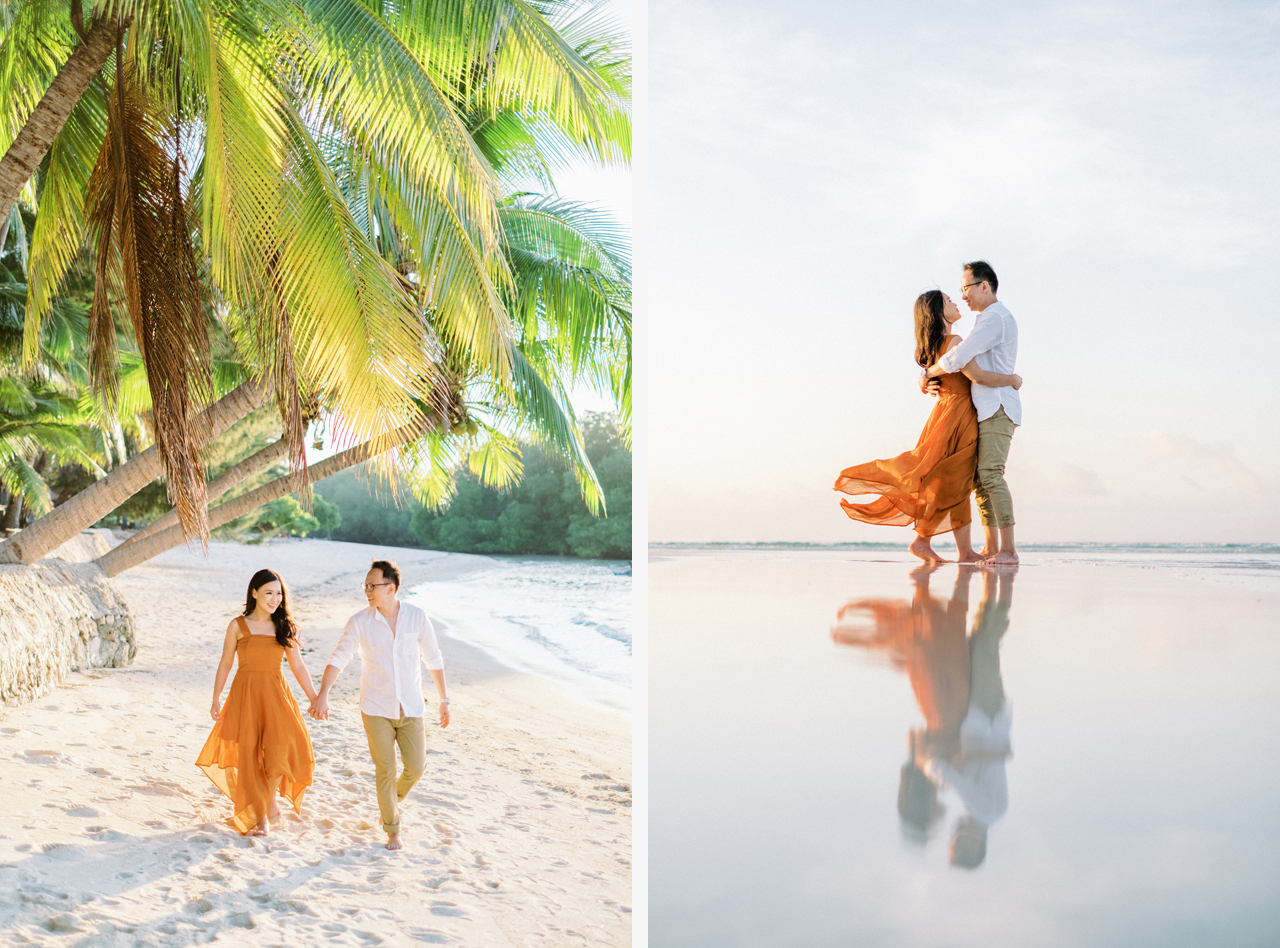 Coordinating The Looks
As you're coordinating your outfit with your fiance's, keep in mind that your outfits will look the most cohesive on camera when the color palettes coordinate, but don't "match." You should each aim to wear a different dominant color, but stay within a similar color palette family.
Bring The Props That Match Your Personality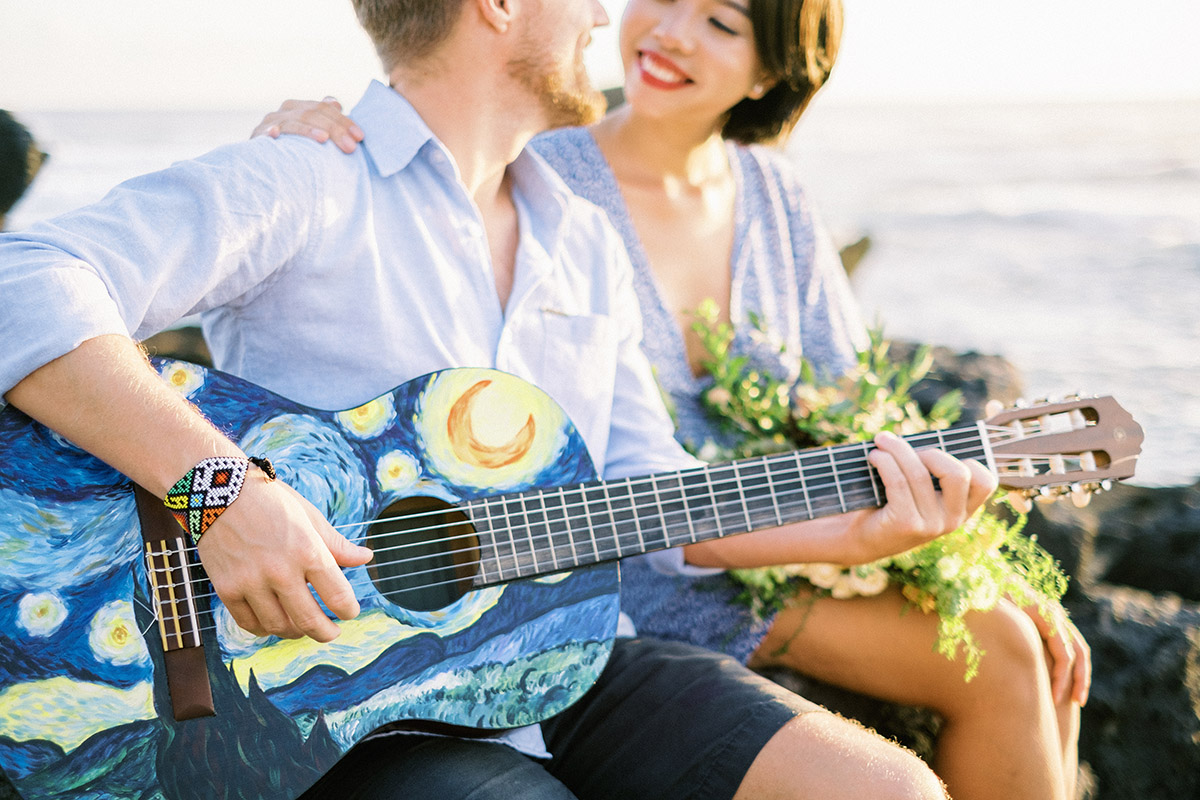 Don't be afraid to show off your personality in your engagement photos! Include pieces that reflect your favorite time on a regular day. We always recommend thinking about your day-to-day hobbies and incorporating some elements as props. We love how one of our clients bring his favorite guitar on his engagement session, and one of our client wearing their boots and backpack as they enjoy hiking together!
Bali Photography Guide | During the Shoot
I Am Not Good in Front of Camera

My goal is to make photos that make you feel something. This happens when the lovers in front of my camera aren't worried about me or my camera, or their surroundings, or what's for dinner. They're focused on each other at that moment, being together and in love.
How should I pose for engagement photos
Everyone has their own way of expressing themselves and their love. It's what makes every session unique, and it makes your images more personal and intimate. I'll fix small things like hand position, head and shoulder angle, and stances. But the rest, I like it looks very natural, everything else is unique to both of you.
After the Shoot
When Will Be My Photo Ready?
We want you to have your photos just as much as you want them, but we don't want to hand you anything but the best. Admittedly, this takes some time. Post-processing is the largest part of the photographer's job (and the most time-consuming). On an average session, it takes me two to four weeks to edit photos.