If you think Bali is only about sun-kissed beaches for the surfer, rice terraces, and majestic temples, it's time to change your perspective a little bit. Bali is home to the most picturesque waterfalls that not only offer a heavenly experience but also breathtaking vistas that soothe your soul. Here are the 8 best waterfalls in Bali that are great and have easy access for a fun Bali photoshoot experiences.
All photos below are taken by Bali wedding photographer, Gusmank Wedding Photography.
1. Blangsinga or Tegenungan Waterfall
M&N: Intimate Bali Waterfall Photo Session
Blangsinga or Tegenungan Waterfall, by far, the most professionally run waterfall destination, and for that reason and I think it's the best picturesque waterfalls in Bali, I am always happy to take my client here. Its close proximity to Ubud makes it easy to visit after an earlier session at the Tegalalang Rice Terrace. There are three different levels on the waterfall on where a couple can pose. It is advisable to not wear any heels and please be mindful that there are stairs to reach the waterfall.
2. Nungnung Waterfall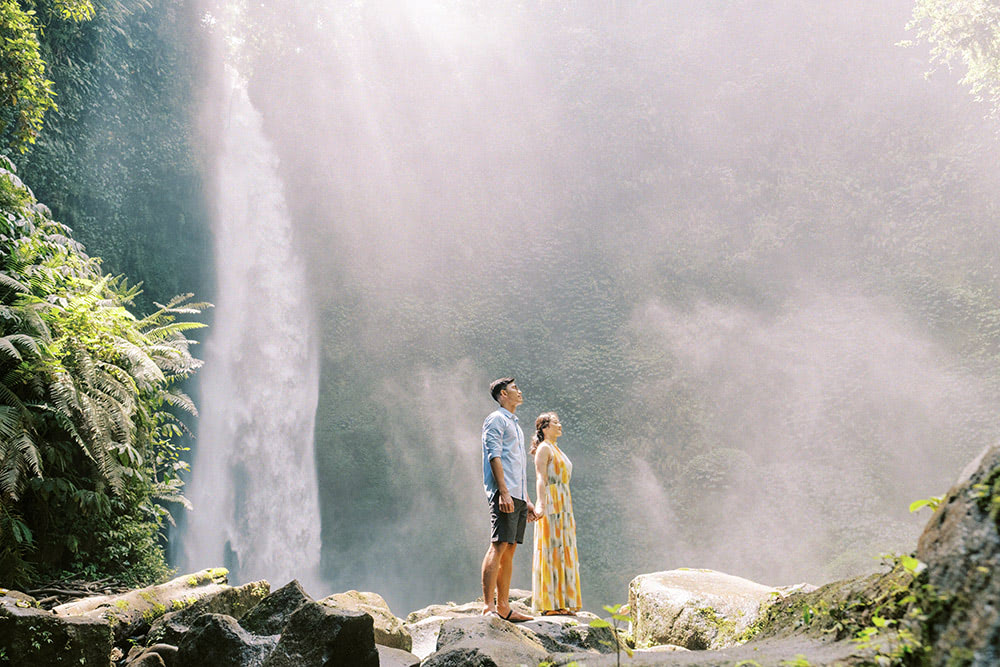 Nungnung Waterfall is rated as one of the best Bali waterfalls, the most majestic and it definitely lives up to its name. It's located high in the mountains of Bali. Making the air cooler and the scenic drives through the palm tree roads way more beautiful.
3. Tibumana Waterfall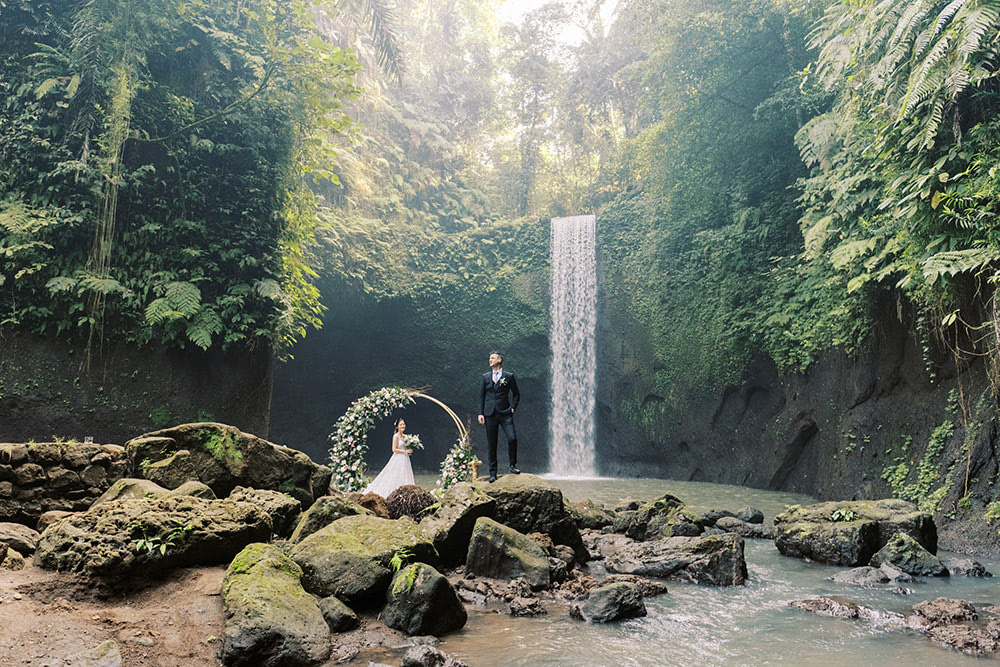 Tibumana waterfall is a beautiful hidden waterfall located in Apuan village, around 15 kilometers east of Ubud. From the car park near the Pura Dalem, where an entry booth charges 10,000 rupiahs, a cement path leads on an enjoyable short trek down to the river peppered with flowers, bamboo groves, birds, and butterflies. The path splits—take the path to the left to the waterfall. First, you will pass a smallish jungle cascade falling through creepers and vines to a shallow pool.
4. Tukad Cepung Waterfall
Celebrating Love With A Bali Post Wedding Photography
Tukad Cepung Waterfall has mesmerized everyone who has managed to spot it. Well-guarded by the cliffs, this waterfall is difficult to locate for the first time visitor. A few hundred stairs down the cliff are worth the effort once you arrive at the destination. The circular cliffs give you the feeling of being in a cave, while the open sky right from where the waterfall emerges, gives you the most enchanting view.

5. Pengibul Waterfall
Pengibul Waterfall still remains as the best virgin waterfall of Bali. The fact that this spot is not known to a lot of people and still not under the commercial tourist spots. This waterfall has a spectacular sight of a multi-level waterfall with a height of about 15 meters. We simultaneously enjoyed the astonishing natural scenery as we walk through the area ― the lush greens of the forest that are adorned along the way of Pengibul Waterfall.

6. Munduk Waterfall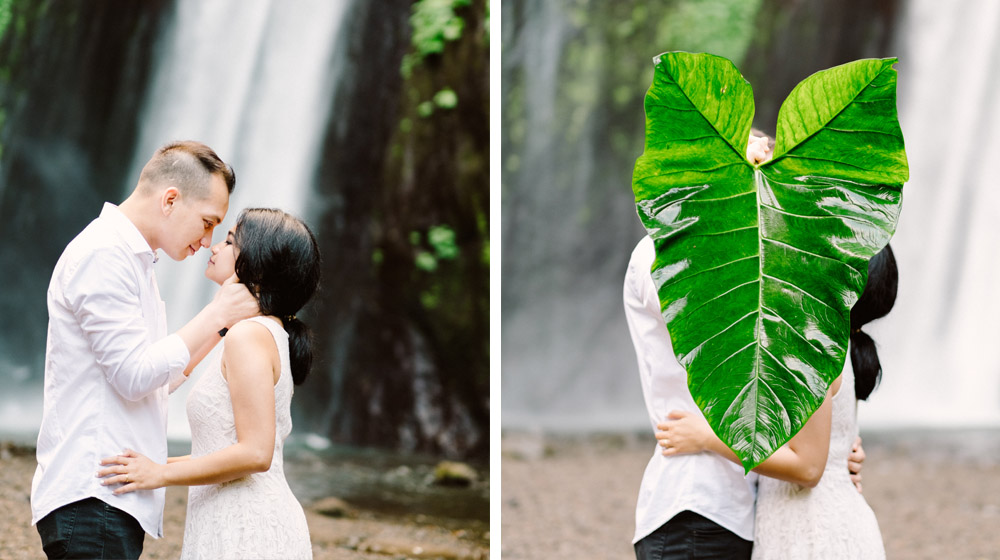 Munduk is among Bali's most scenic, located within Bali's lush and forested central-northern highland region. The falls are a highlight feature of the namesake village of Munduk in Buleleng, North Bali, reachable after a 300m walk from the main road on which trekkers can enjoy soothing nature sights and sounds along a forest route. Cool mists and the rushing sound of water greet you upon reaching the Munduk waterfall. Here you can wade into the rocky pool for a cold dip.

7. Banyu Wana Amertha Waterfall (Wanagiri)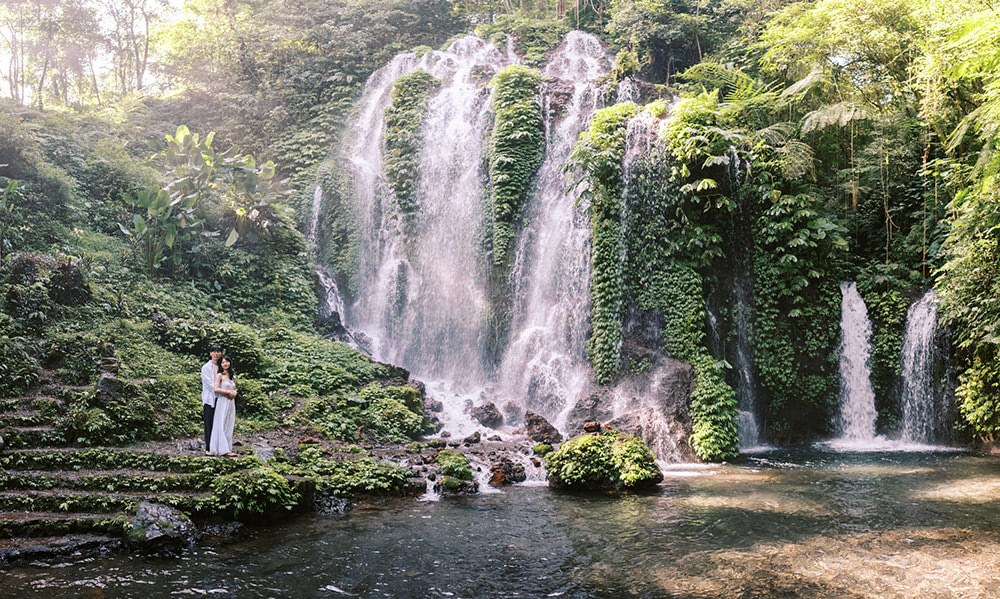 Banyu Wana Amertha Waterfalls in Bedugul is one of the most untouched and underrated waterfalls in Bali. There are several sets of falls to explore at Banyu Wana Amertha which makes this location so unique! Just recently in 2022 the waterfall start to getting known by tourist.

8. Leke Leke Waterfall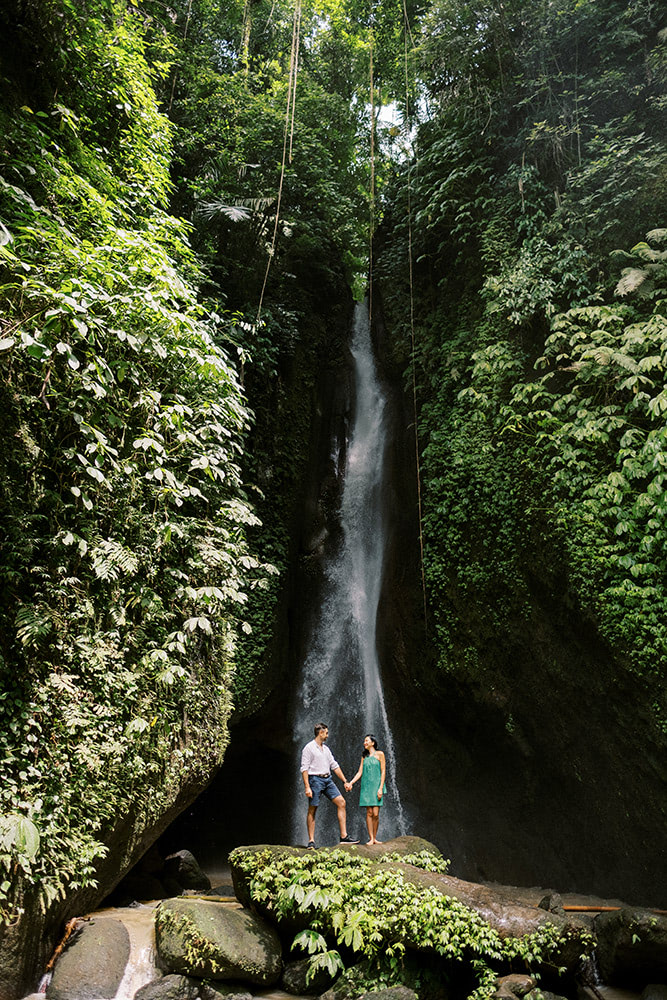 A narrow stream of water that plummets down into a small and shallow pool of blue water, surrounded by the most green and lush forestation, Leke Leke waterfall is one of the most visit waterfall in Bali.