Bali is popular with it's beautiful natural landmark, everyone come to Bali to experiences the magical nature of Bali. However for some couple, shooting outdoor is not their choices, maybe they can't stand the heat or maybe it's rainy season in Bali. With that reasons I came up with the idea to compile some best Bali Indoor pre-wedding Spots that will elevate your style. From luxury, intimate, unique, adventurous indoor location here are 10 best Bali indoor pre-wedding spots.
All photos below are taken by Bali wedding photographer, Gusmank Wedding Photography.
1. Bodyworks Spa Seminyak
Become one of the most instagram location in Bali, this spa has a beautiful Indian architectural. I would say I feels like being in the pink city Jaipur once I stood there, the wall is painted in pinkish-orange color and the bronze fitting decorated the interior. During pandemic many couple opted to do their pre-wedding here to have different and unique ambiance. The spa open to book for photoshoot with a good rate, for prewedding or any other style shoot.
2. Beyond Bespoke
Located in Seminyak, this unique and chic villa made by the mix of the abundant Balinese brilliance infused with the mystique of exotic Mexican vibes. Spaciousness is key in the design of each and every villa at Beyond Bespoke. The high ceilings, large panoramic windows and sumptuous outdoor styling accumulate in a truly immersive experience.
3. Beachfront Colonial Resort, Rumah Luwih
Rumah Luwih is a colonial resort that is magnificently styled after a classic colonial Indonesian mansion. The resort offer a big outdoor area too and a big spiral staircase. This location is good if you are looking for more simple and classic background.
4. Beautiful Mountain View, Montana Cafe Kintamani
Brand new cafe spots in Bali that now become picturesque spot in Bali. The cafe offer a full view of Mount Batur Caldera, no wonder many people come here for their pre-wedding. Be here in the morning to make sure you got a nice backdrop of Mount Batur with a clear sky and beautiful sunrise.
5. For an Intimate Home Session, Villa Massilia
This very earthy villa featured teak and terrazzo interiors, natural on-trend furnishings, lush gardens and private swimming pool. Throughout the entire home, one thing remains clear: they added an indoor pot to bring fresh accent on top of their earthy style.
6. Motel Mexicola
Who doesn't know Motel Mexicola? This famous colorful with a Mexican concept restaurant is a must visit venue by tourist when they come to Bali. The good thing this venue can be rented out for a pre-wedding or wedding too.
7. For the Nature Lover, Hideout Bali
Hideout is an experience Its not just an Airbnb, but everything around it build a great memory. the sound of the river, rice field, hospitality from the beautiful people in Bistro, stylish design, quiet area and the animals are one inseparable part of Hideout.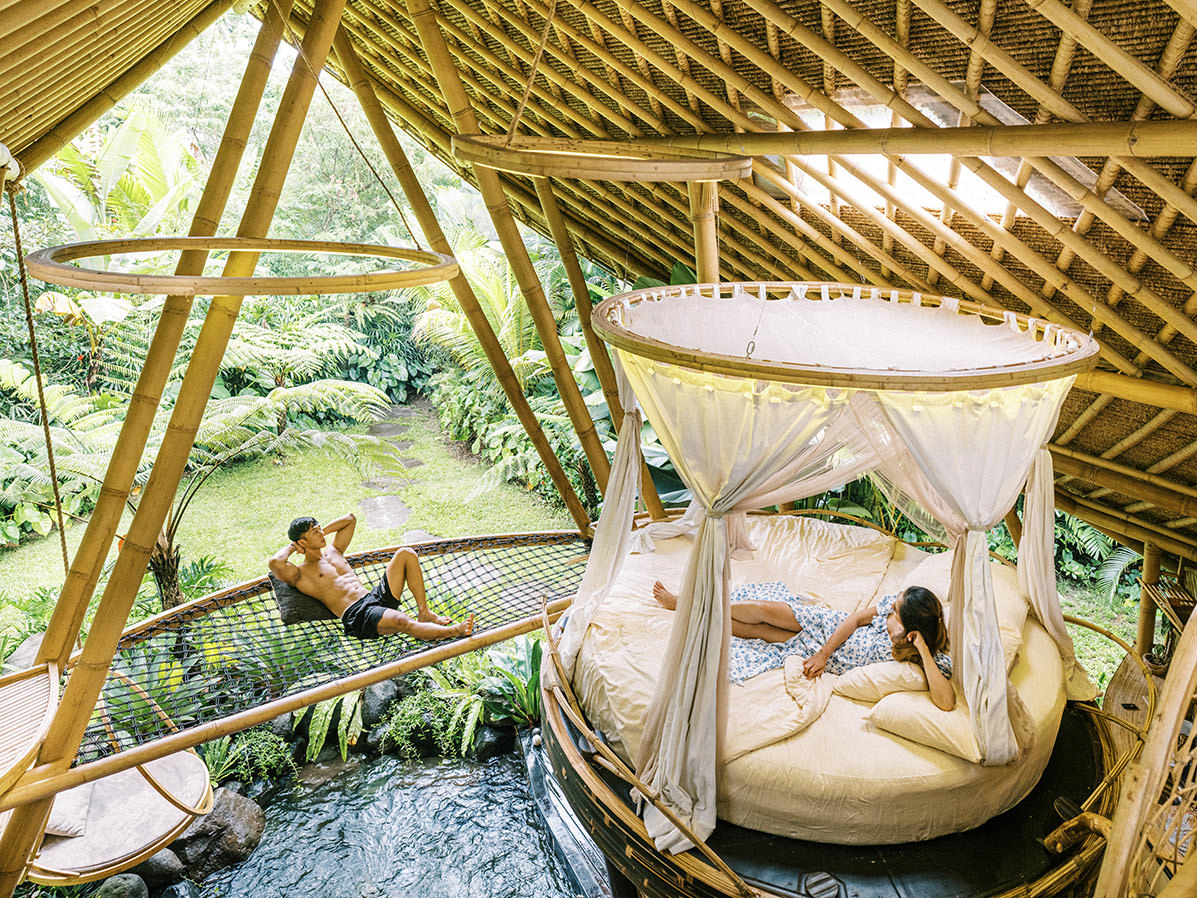 8. Simply White Casual Home Session, Villa Kembali
9. Capella Ubud
Nestled in the heart of lush green forests, Capella unique tented camp sits in harmony with the surrounding nature. Inspired by the early European settlers from the 1800s, architect Bill Bensley designed Capella Ubud, Bali as a tribute to their spirit of adventure.
10. Pre-wedding with a French Style Building, Villa Kemilau Umalas
11. Morabito Art Cliff
Architecture and interior designed by French, Paris based Pascal Morabito, Morabito Art Cliff is a perfect contemporary works of art, and offer you the privilege to travel in the same place in 5 different atmosphere and mythic destinations with the weather and kindness of Bali.
12. Skai Joglo
Skai joglos is an Indonesian wooden house, floating in the jungle treetops of Ubud, Bali. The setting, nestled amongst the trees, with views of local rice farms.
13. Villa Avantie Canggu
This brand new chic villa just open in October 2021. Distinctive surfaces, fixtures, details, textures, and patinas bring depth and complexity to clean, simple lines and illuminated open spaces
14. Natural Glamping, Alam Caldera Kintanami
Situated in the mountains of Kintamani, Alam Caldera gives all the camping vibes – wood fires, bbqs, canvas tents and stunning scenery, but in glamping style. This stunning spot has a large grassed area and gets an epic sunrise view.