Having great honeymoon photos in Ubud means picking the right accommodation. A lot of resort in Ubud offers spectacular lush green scenery, even some of the resorts have it's own waterfall and rice fields. By this, you don't need to go out to public spaces for your Ubud honeymoon shoot! The good things you are able to do a photoshoot in the resort as long as you are staying as their in-house guest, but please note some resorts will require fees if you bring an outside professional Bali photographer. I will mention below which resorts are requiring additional fees for an outside professional Bali photographer based on my previous experiences of shooting there. Look no further here are the lists of the best Ubud honeymoon resorts for your spectacular photoshoot without need to leave your spaces.
All photos below are taken by Bali wedding photographer, Gusmank Wedding Photography.
1. Four Season Resort Bali at Sayan
Four Seasons Sayan is a luxury resort surround by the rice paddies and Ubud's jungle. This resort built on a hillside along the Ayung River. From the moment you arrive — via a dramatic bridge that leads you to a huge infinity-edge lotus pool seemingly suspended in the air — you feel transported to a world apart making this location one of the best Ubud honeymoon resorts for a photoshoot!
---
2. The Udaya Resort
Surrounded by majestic mother nature and inspired by Balinese architecture, The Udaya Resorts & Spa, located at the heart of Ubud evokes both a romantic and relaxing atmosphere. Looking at the atmosphere this resort is wonderful for your romantic honeymoon session.
SEE FULL STORY:
---
3. Puri Wulandari Resort
A collaboration of owners' dreams and sensitive towards traditional cultures and the natural environment, Puri Wulandari, A Boutique Resort & Spa blends easily into the peace and quiet of her home among lush green rice paddies, Bali-blue skies and tropical forests surrounding Ubud, Bali
---
4. The Kayon Jungle Resort
The Kayon Jungle Resort has been created especially for honeymooners, romance, and relaxation. Peaceful sounds of singing birds, wind chimes, and the gentle flow of water drift across the valley. Tropical flowers and incense fill the air with exotic fragrances. The resort's visual allure comes from its unique architectural concept, stylish design elements, local artworks, and lush landscape. This resort normally charges $100+taxes for an outside professional photographer.
SEE FULL STORY:
---
5. The Royal Pita Maha Resort
Blessed with an 18-hectare valley landscape descending down to where the Ayung River carves its way through the natural environment, The Royal Pita Maha Resort celebrates Bali's heritage of art and culture. The resort has it's own waterfall!
---
6. Mandapa a Ritz Carlton Reserve
Like its Sanskrit namesake, Mandapa, a Ritz-Carlton Reserve offers hotel guests a "temple" of their own, a sanctuary for inner exploration and tranquility. Secluded along Ubud's Ayung River and surrounded by verdant rice paddies and rolling hills, Mandapa, a Ritz-Carlton Reserve introduces hotel guests to another side of Bali.
---
7. Komaneka Resort at Tanggayuda
Komaneka at Tanggayuda, established in 2001, is a quiet resort of almost 2 hectares, beautifully situated amidst tropical forest at the edge of a neighboring village, with views to the sacred volcano, Mount Batukaru, and the Oos River. At a slightly higher elevation than Ubud, the air is fresh and invigorating.
---
8. Ubud Valley Resort
Ubud Valley Resort is an ultimate paradise where the ethnicity of Joglo Wooden Houses awaiting to be discovered. Perfectly located on the green valley overlooking the Pakerisan river, the retreat resort offering tranquility for your rewards day in Ubud. Experience a serene retreat in a luxury villa and get the jungle feeling only one step away from your balcony.
SEE FULL STORY:
---
9. Kamandalu Resort
Kamandalu Ubud is a tranquil haven set in the lush green hills of Ubud, an area long famed for its rice terraces, ancient temples and traditional arts. The resort is beautifully built on curving ridges above the flowing Petanu River, just a 10-minute drive from the center of Ubud.
---
10. Maya Ubud Resort and Spa
Scattered across 10-hectares of the tropical landscape featuring a hidden river valley, Maya Ubud is a luxury resort designed to capture the spirit of a traditional Balinese village. With a collection of stylish rooms and private villas, the property combines local elegance with gracious hospitality for a memorable five-star experience.
---
11. Tejaprana Resort and Spa
Tejaprana Resort nestled in the lush jungles of the Petanu river valley. Located in a cul-de-sac off the main road, the moment guests pass the resort entrance they are transported into a world of peace and tranquility. All villas face east allowing guests to fully enjoy the benefits of the morning sun.
---
12. Chapung Sebali Resort
Renowned as one of Bali's unique Ubud Hotels, the eclectic boutique resort Chapung Sebali eloquently fuses traditional Indonesian architecture with contemporary Scandinavian styling. It is a mystical place that brings together unparalleled comfort with an outstanding level of genuine service among Bali luxury resorts.
Perched up high among the hills, and just a ten-minute drive from the center of Ubud, Chapung Sebali is located among the lush wilderness and rice fields, in an idyllic location to escape to and hide.
---
13. Hanging Gardens of Bali
In the area of Ubud's rice paddies, you will discover one of the best Ubud honeymoon resorts, the Hanging Gardens of Bali, which is without a doubt also one of the World's most striking and romantic destinations for a wedding, special event, anniversary ceremony or a honeymoon. The enchanting resort offers the ultimate privacy, serenity, and a poetic union of nature and luxury. The resort stands on the edge of a stunning valley, surrounded by a picturesque rain forest.
This resort will charge $150 for an outside professional photographer.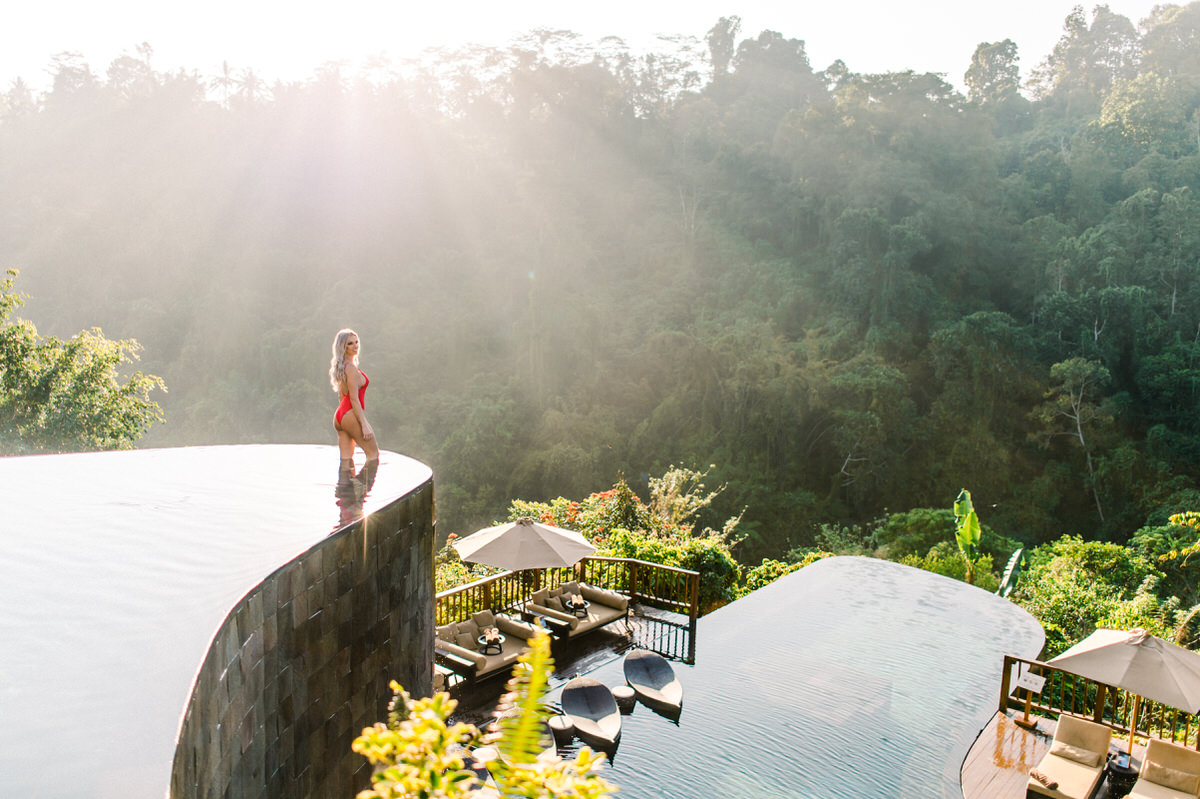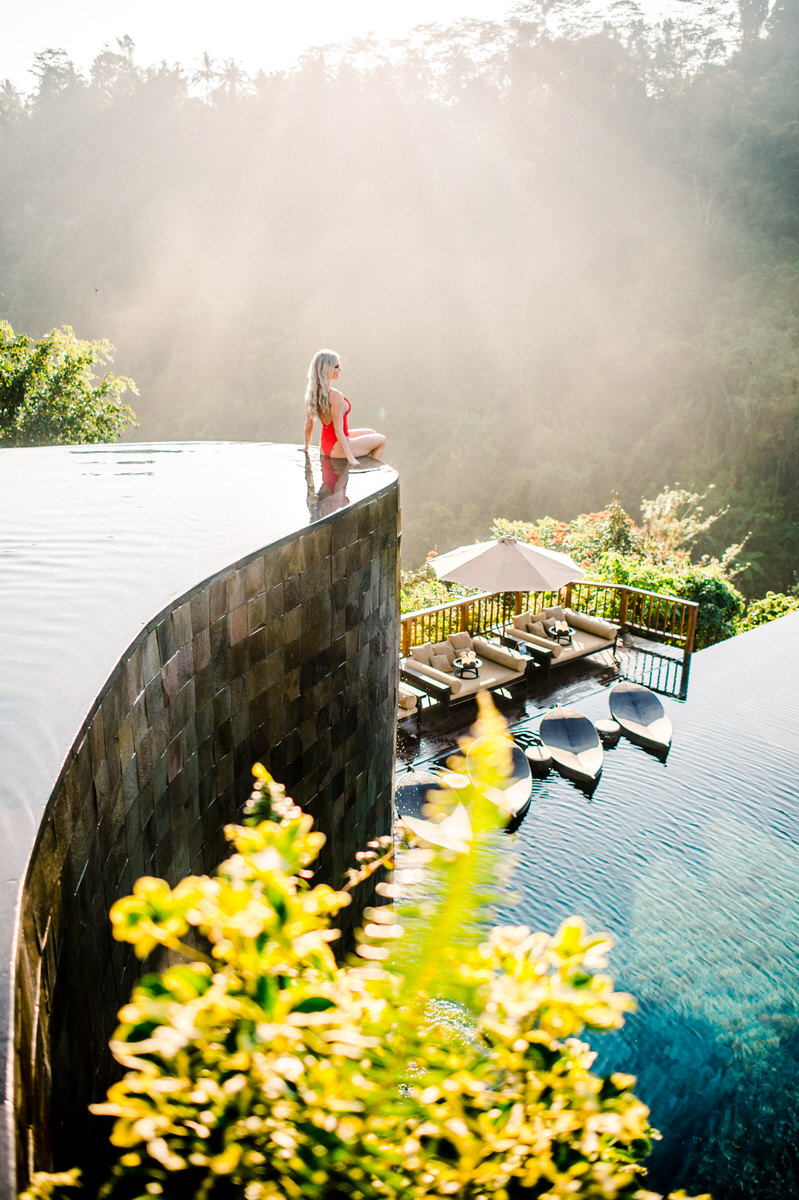 So which best Ubud honeymoon resorts do you like?