Bali is definitely one of the best destination wedding in the world. Over the years, Bali has proved that it is not just an exotic holiday destination but has the potential to host most amazing weddings. As many of my clients are asking which venue that have a most amazing view, here's some of the best cliff-top Bali Wedding Venue that has a breathtaking ocean view.


BALI WEDDING OF ANA OCTARINA AND ADIE BARON
Tirtha Bridal Uluwatu
Set on the majestic cliff top, Tirtha Bridal relish the caresses of the tropical sea breeze down below and the magnificent panorama of Indian Ocean unfold before you. Tirtha provides a breathtaking venue that even minimal decorations enhance more its natural beauty, one of the perfect Bali wedding venue for capturing the grand moments for lifetime memories.

THE PALA AT PANDAWA CLIFF ESTATE WEDDING
Pandawa Cliff Estate
Pandawa Cliff Estate might be the most favourites wedding venue in Bali, I shoot here so many times. Pandawa Cliff Estate located on the southernmost edge of Bali's Bukit Peninsula, high above the Indian Ocean and the white sands of Pandawa Beach. The view and the sunset make it one of the best cliff-top Bali wedding venue. The estate's consist of four villas, The Pala, Villa Rose, Villa Marie and Villa Markisa offer a total of 21 bedrooms, so if you have many guests or family, you could consider this venue.


A DESTINATION WEDDING AT KHAYANGAN ESTATE
Khayangan Estate
One of my favourite Bali wedding venue, Khayangan Estate located on Uluwatu clifftop with astounding view of Indian Ocean, It's classic Indonesian Joglo style of architecture enhance your wedding with a real Indonesia feeling. Spacious lawn and perfect intensity of sunlight during the wedding ceremony help me a lot to capture the perfect moment beautifully.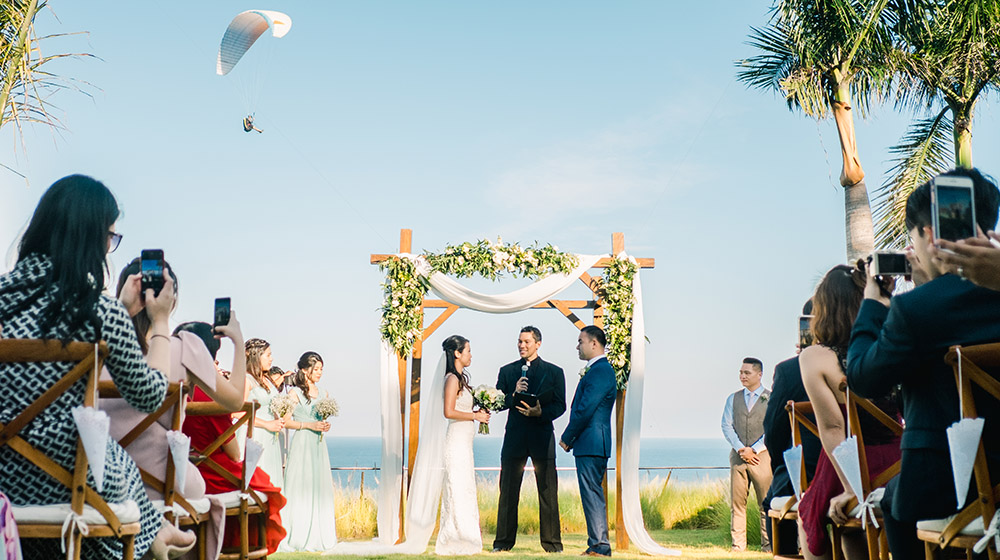 OCEANVIEW AT VILLA LATITUDE BALI WEDDING PHOTOGRAPHY
Villa Latitude
Villa Latitude is a private villa especially made for Bali wedding venue located on the southernmost tip of Bali in a region known as the Bukit Peninsula. Looking at this wedding made me wonder, who doesn't want to get on aeroplane and head to one of the most beautiful destination wedding locations in Bali for their wedding?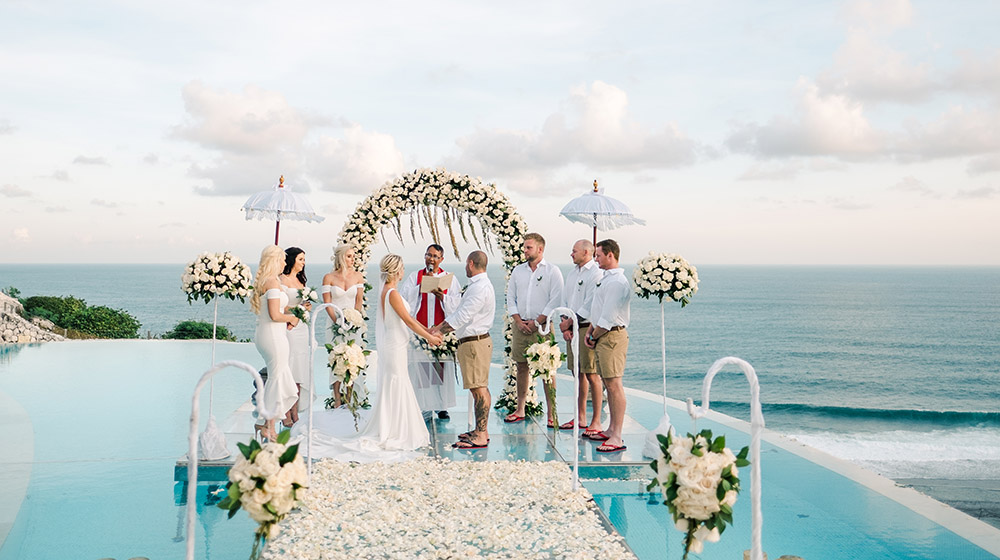 DESTINATION BALI WEDDING AT KARMA KANDARA
Karma Kandara
Karma Kandara's incredible location, perched on a cliff above a beautiful private beach, was selected by a Feng Shui expert for its powers of good fortune. There couldn't be a more auspicious place to celebrate the start of your life together.


INTIMATE BALI WEDDING PHOTOGRAPHY AT AYANA RESORT
Ayana Resort
Leading the list of the World's Best Wedding Venues by CNNGo, AYANA Resort and Spa Bali is renowned for its shimmering Bali wedding glass chapels, elite wedding planners, iconic Rock Bar after-parties, and breathtaking views. Yet, the secret ingredient to what ranks AYANA Resort and Spa Bali amongst the world's most enchanting wedding venues may be something that is not so obvious; what really sets AYANA apart is its ability to offer truly unique and memorable experiences


BALI WEDDING PHOTOGRAPHY AT ALILA VILLAS ULUWATU
Alila Villas Uluwatu
Alila Villas Uluwatu brings eloquence and flair to exotic weddings, set in a tropical landscape, amid sprawling lawns and the romance of the sea – a mesmerising backdrop for couples looking for a truly fresh and inspiring island setting to mark their marriage, to renew their wedding vows or commitment.