Bali is a destination for Indian Wedding, maybe because Bali has a similar culture to India where the most of the population worship Hinduism. Many Indian especially from the West decided to have their wedding in Bali since it's easier to invite their relative from India to Bali than to the West. Indian Wedding ceremony in Bali are filled to the brim with vibrant, cultural events lasting for average two or three days length.
Mehndi
A mehndi ceremony usually happens on the first day. Prior to the Indian wedding ceremony in Bali the bride and her female guests and relatives will have elaborate henna designs painted on their hands and feet for the occasion.
Learn More:
Sangeet
The sangeet is scheduled for later that night. All of the guests are invited to this event, which typically includes a supper, dancing, and performances by the bride and groom's families.
Haldi
Known to possess anti-inflammatory, healing, beautification, antiseptic, and purification properties, Haldi is essentially a cleansing procedure for the bride and groom to be. It's beautiful mustard yellow hue is auspicious in Indian tradition representing a life of prosperity for the couple about to begin their new life together. Haldi usually happens in the morning before the main ceremony.
Baraat
A Baraat is the groom's procession into the wedding ceremony. The procession signifies an age-old tradition of the groom who would travel an average of five to seven days to his bride to be home. Nowadays, the baraat is condensed to up to an hour of dancing and celebration.
Main Ceremony
For the main ritual a four-pillared building called a mandap will be build on the venue. Traditionally, the bride will wear a red sari or a modern lenghenga to be wrapped in on her wedding day. A sacred fire (agni) is lit by the priest. As a representation of the seven holy promises they have made to each other, the couple traditionally dances seven times around the fire.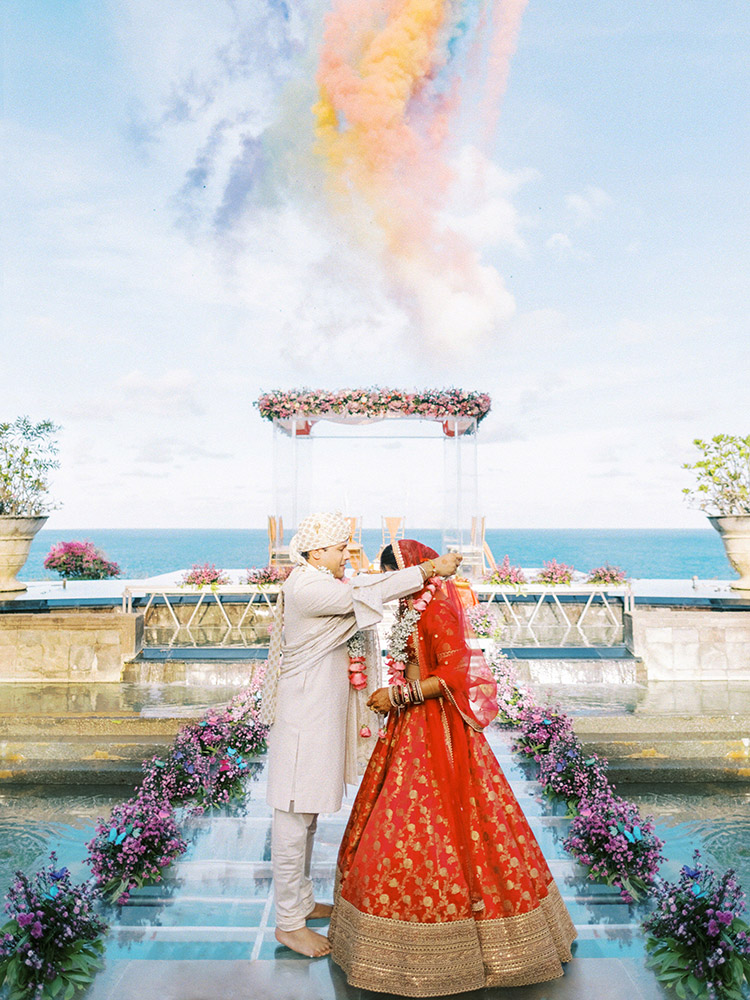 Learn More:
Night Time Reception
Now the marriage ceremony is complete and the bride and groom are together, it is time for the family and friends to celebrate this.