Congratulations, you're engaged! It's time to plan your wedding day. Some couples think of eloping by escaping to the tropical island like Bali. If you are thinking about having a Bali elopement, then you came to the right place to gather up all the inspiration and information you need to make your wedding day perfect.
By eloping in Bali you do not need to worry about inviting a bunch of guests. The elopement can actually be fun and more romantic! If you love adventure, romance, and if you're aiming to have a day just for the two of you, then you have to come to Bali to elope! I have shot many elopements in Bali and have witnessed all the processes from start to finish so I have many experiences handling it. Here are some pieces of advice from me on how to elope in Bali for the most intimate day.
Decide Where To Elope in Bali
Bali has many locations for eloping, from the stunning waterfalls, beaches, and resorts. You don't need to worry if you wanted to elope in public spaces like waterfalls and beaches as you could hire the spaces for 2 hours privately! Some of the locations that are able to be hired for privates events are Tibumana Waterfall, Nung Nung Waterfall, and Balangan Beach. I encourage my clients to elope at the most private locations in Bali as the best intimate elopement offer privacy and seclusion.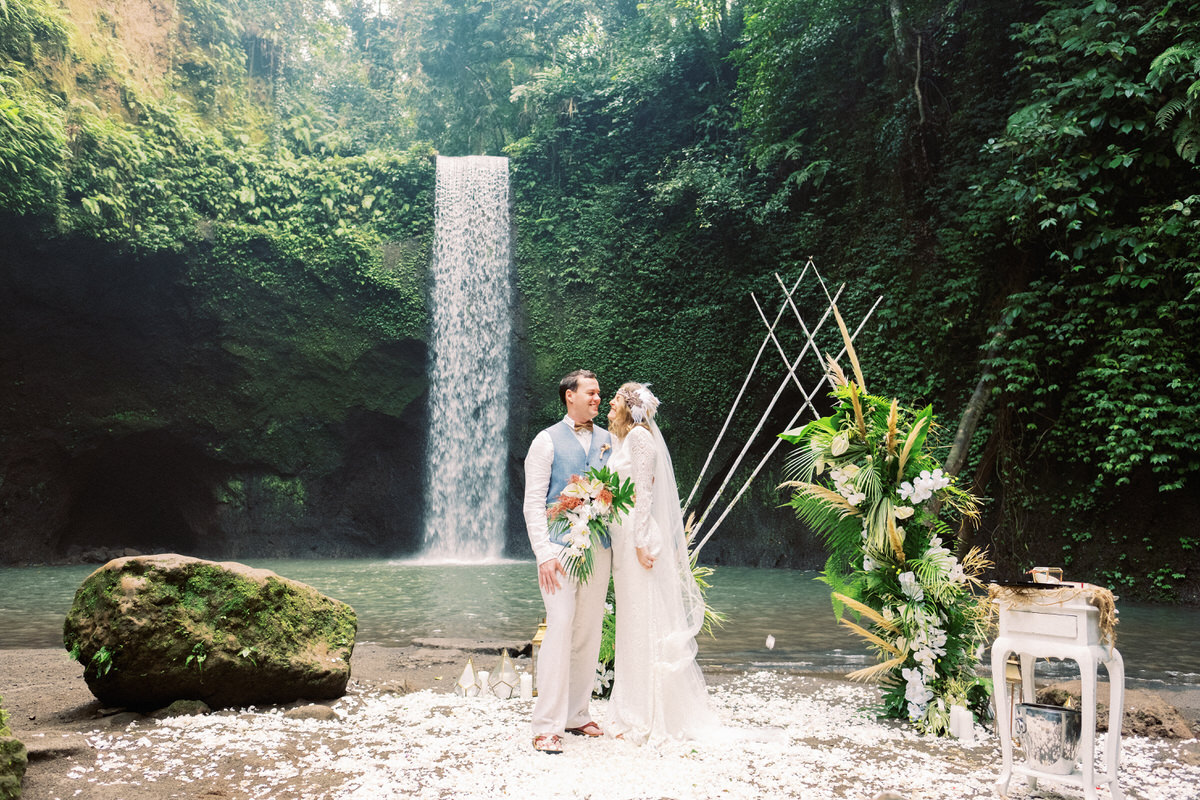 Below are the best elopement locations in Bali for intimate affairs.
Bali Waterfall
There are 2 big waterfalls in Bali that usually use for elopement sessions, these are Nung Nung Waterfall and Tibumana Waterfall. Both waterfalls look spectacular on the photographs with some decorations.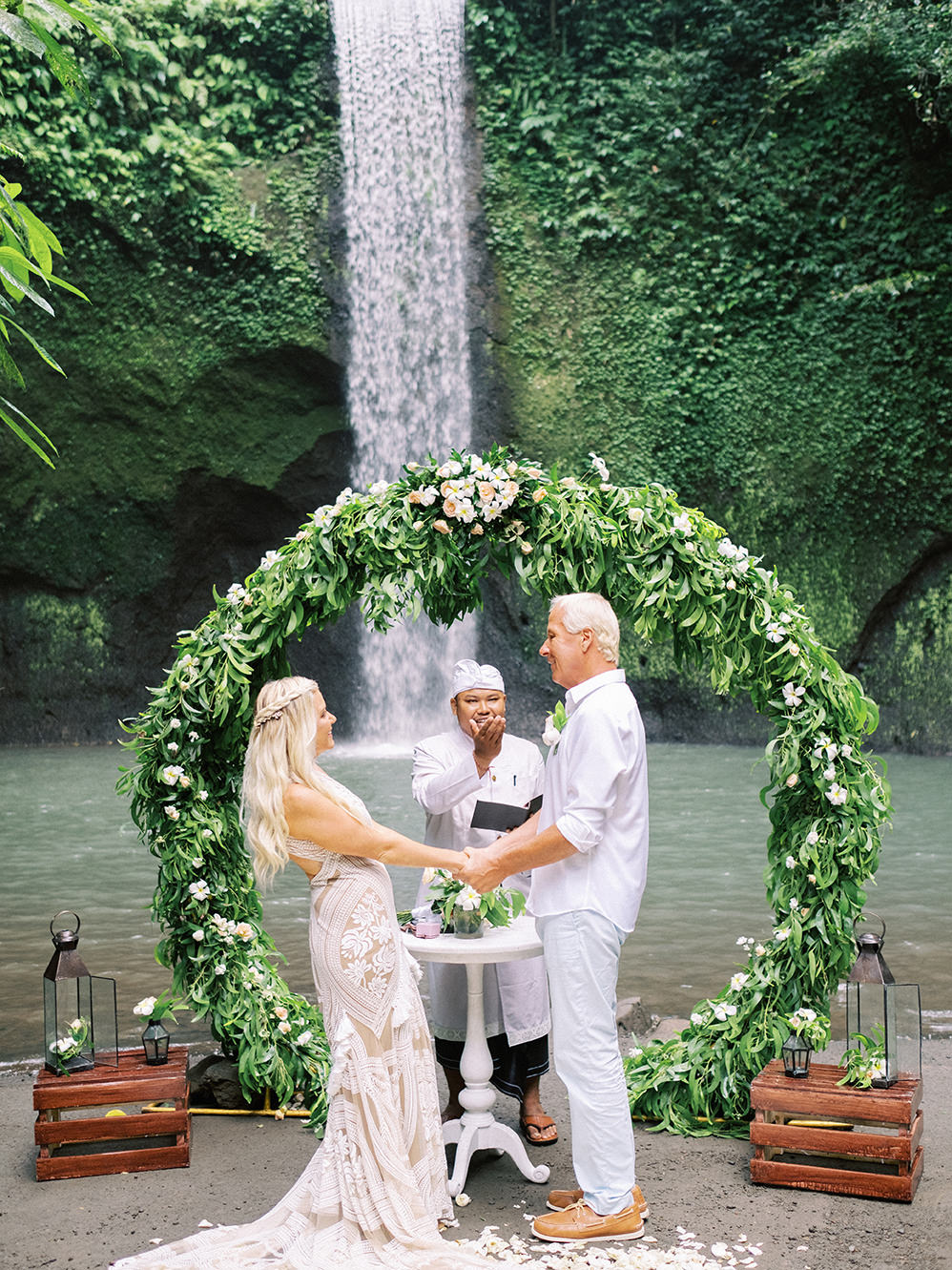 Bali's Resorts or Hotels
Some resorts or hotels in Bali are also good locations for an elopement. They often offer a package that includes a planner, venue, ceremony until the reception. Some of the resorts I know offering an elopement package are Four Season Sayan, The Udaya Resort, Kamandalu Resort, and The Kayon Jungle.
Cliff Top Bali Elopement
If you look to elope surround by the ocean, I recommend eloping at Balangan Beach. This is a public beach but you could hire some spot for an elopement ceremony like pictures below.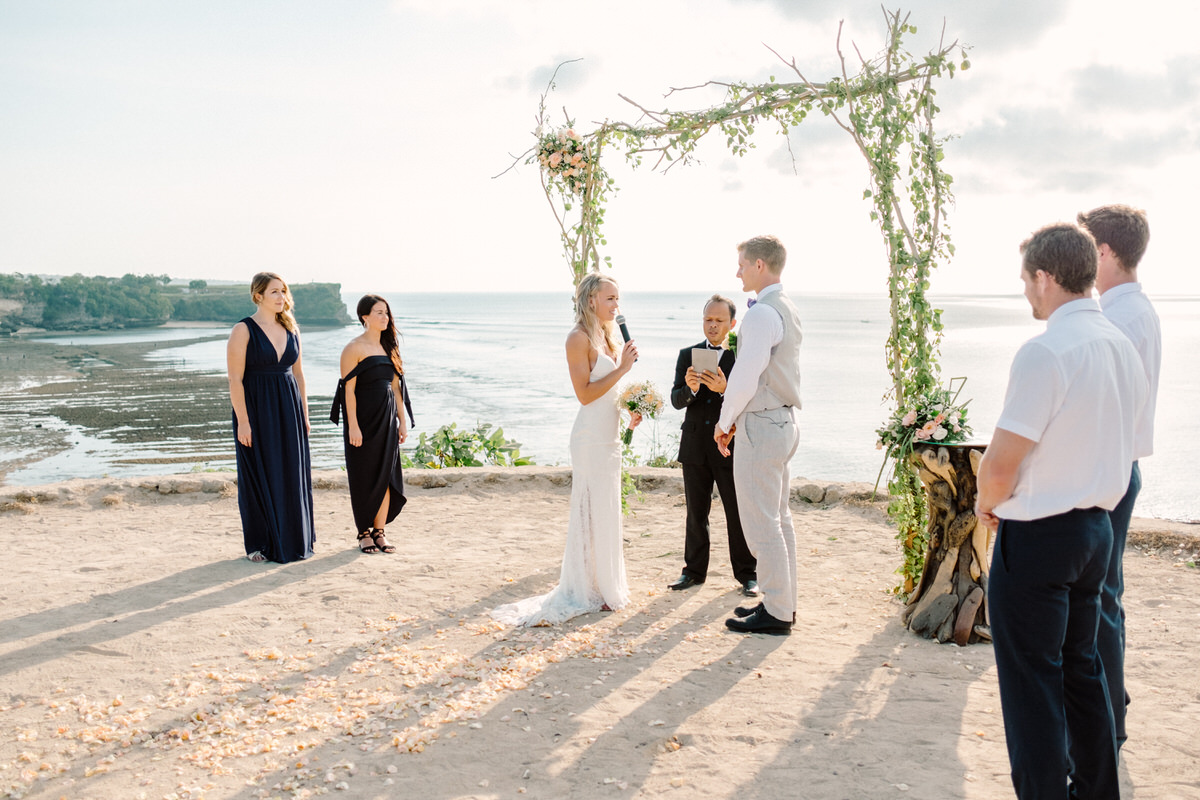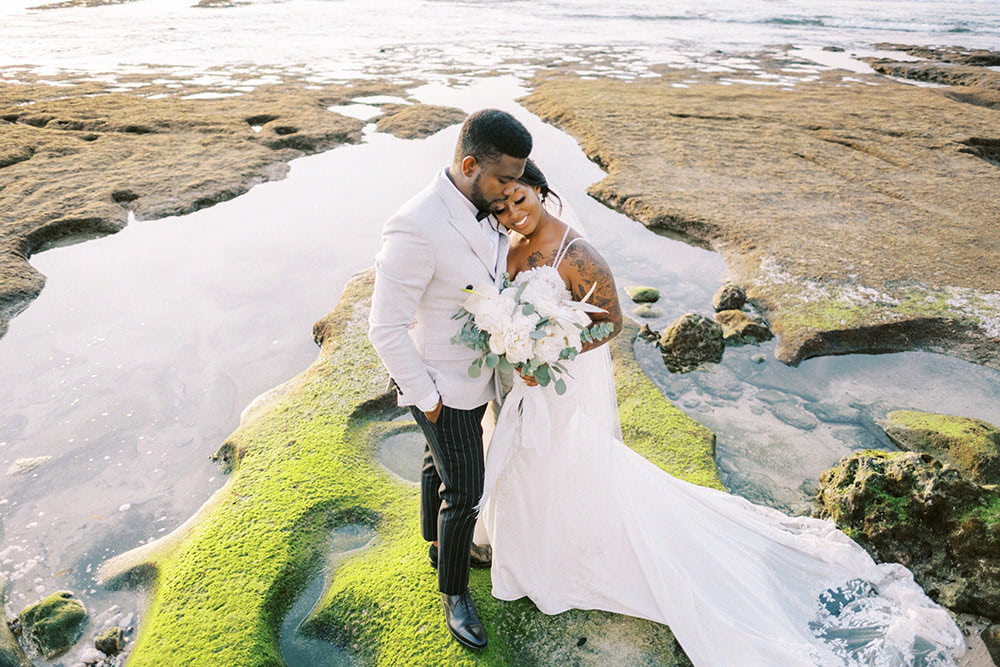 Pick Local Bali Wedding Vendor For Your Bali Elopement
Even if it's just the two of you exchanging vows, I highly recommend considering some vendors for your elopement. Having a planner to help you plan the event will be very helpful. A lot of elopement planner in Bali has its own packages that include venue fees, decoration, priest, etc. After you've picked your vendors, connect with them, and tell them your Bali elopement vision.
Make Your Marriage Legal in Your Home Country
If you are eloping in Bali, I highly recommend that you get married legally in your hometown and then have your elopement day be symbolical and be the day that you say your vows to each other and commit your lives together. By doing this you will save a lot hassle and keep your elopement day as stress-free as it can be! Or you could process the paperwork after your elopement in Bali.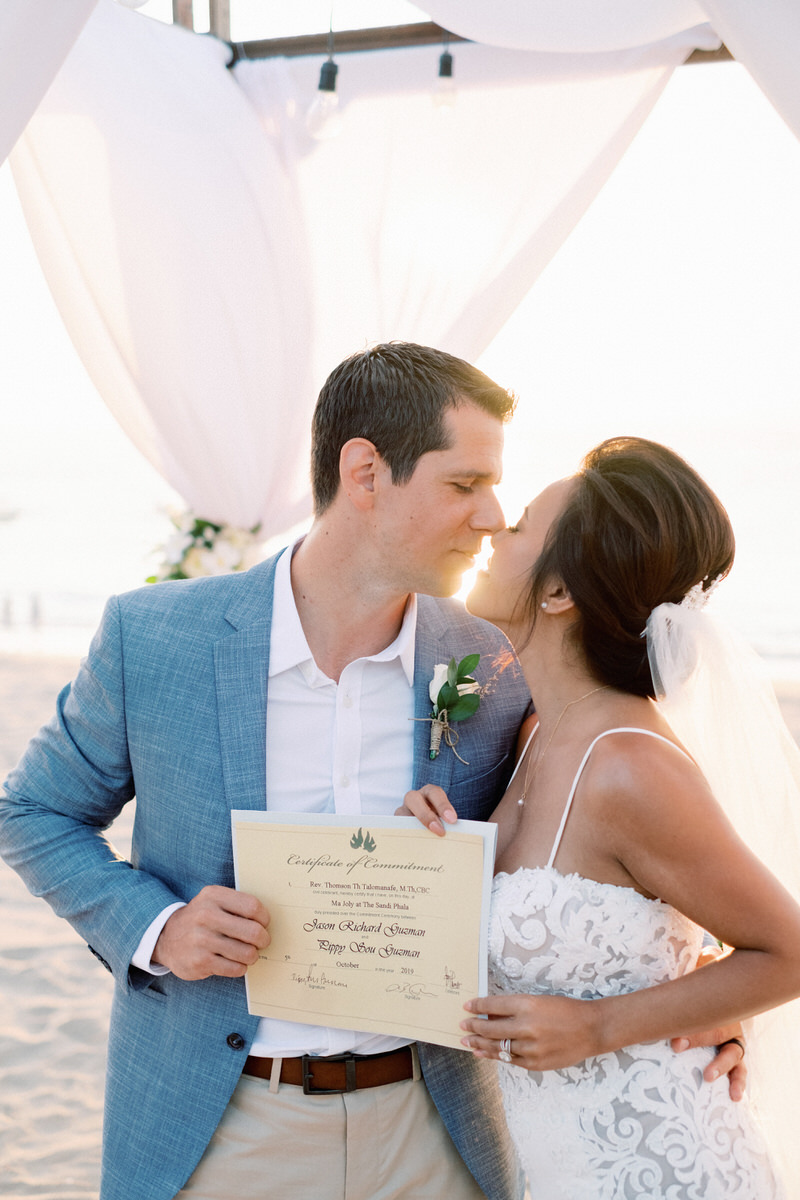 Pick Your Wedding Attire
For this one, make sure to check what you'll be doing in your attire before and after your elopement ceremony. If you are going to elope at the waterfall, rice fields, or mountain I would suggest wearing something light and flowy so it's easier for you to walk around. Choose what suits your style and the location.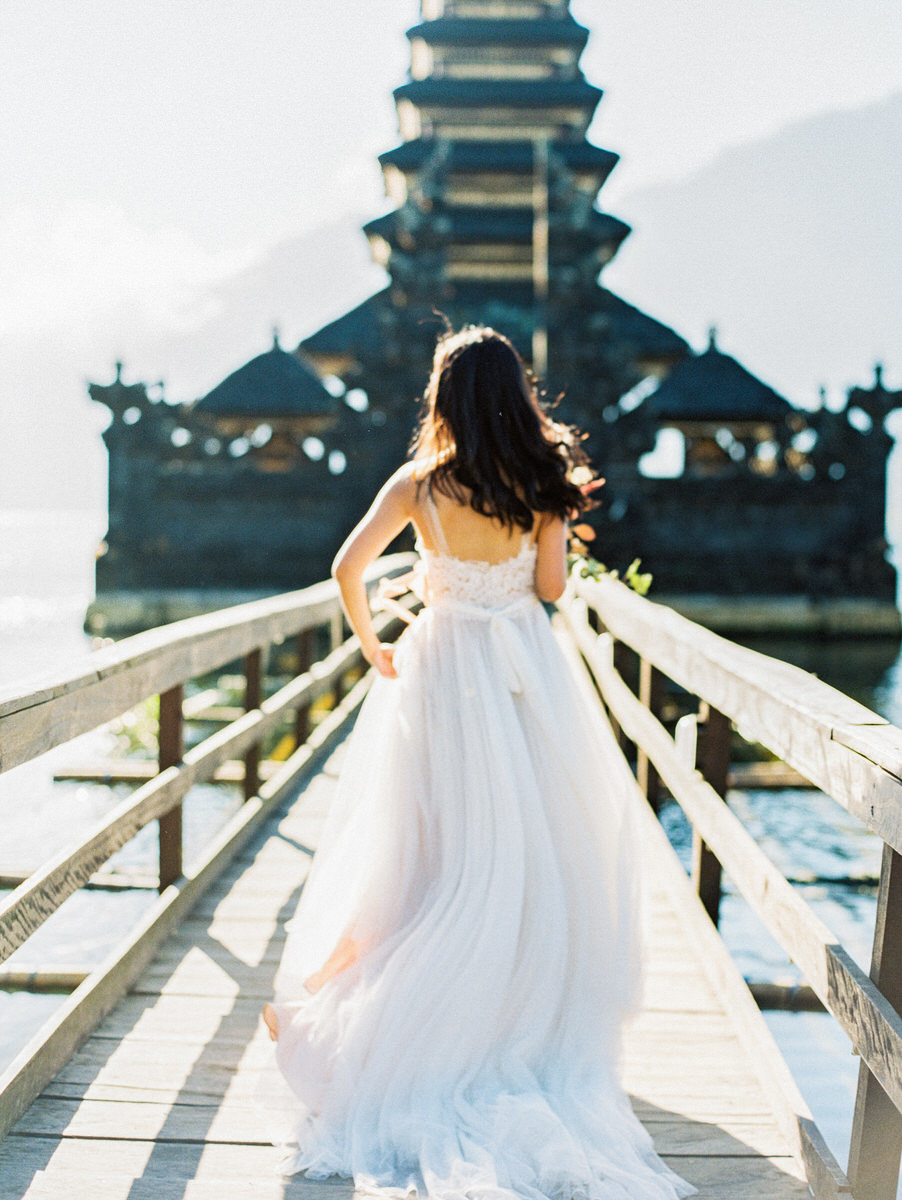 Make Your Elopement Announcement by Hiring Bali Elopement Photographer
This is the most important thing to consider during your Bali elopement. As you will get married by just two of you and sometimes few people, you need to make an announcement to your other families and friends. By hiring an experiences Bali elopement photographer you are able to share the most beautiful moment that your relatives can't miss. It's also so important to hire a photographer that gives you a sneak peek few days after the session as you will need few photos right after you elope, to savor the magic of the amazing thing you just did.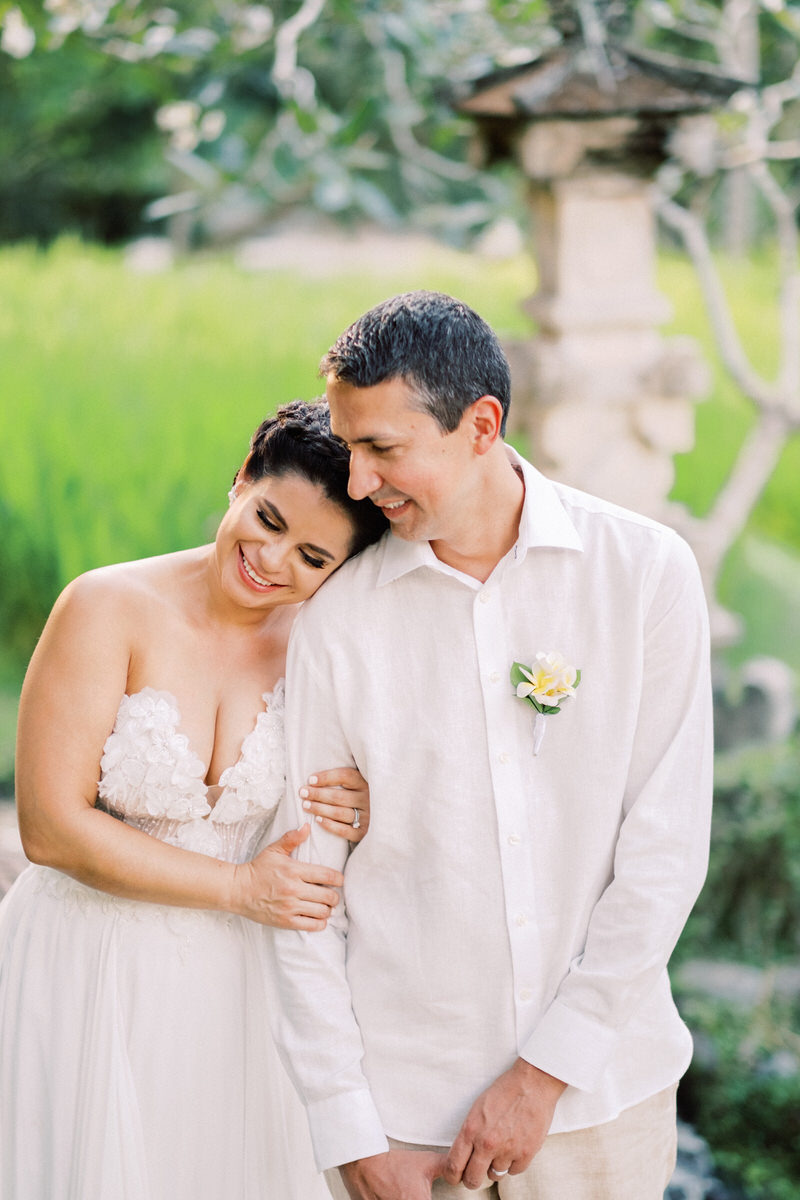 Need more help? Send me an email and I'll help you with other guides of how to elope in Bali personally.