Wedding venues in Bali are famous for the ocean view, cliff, or chapel backdrop. But what if you are a couple who loves for something whimsical and intimate instead? Filled with natural greenery and flowers, special seating areas, the setting and the details of Bali outdoor garden weddings are all incredibly whimsical and romantic. Here, our picks for the 7 best Bali outdoor garden wedding venues.
All photos below are taken by Bali wedding photographer, Gusmank Wedding Photography.
1. Villa Puri Nirwana
Villa Puri Nirwana's beautiful living spaces and abundant garden areas create the perfect setting for garden wedding. With a choice of indoor and outdoor areas, and the sheer scale of the space, the villa is capable to accommodate up to 120 guests. See our real wedding at Villa Puri Nirwana here.
2. Puri Bhagawan
Located at Uluwatu's most premium cliff top area, Puri Bhagawan is another stunning location for your Bali Wedding. Imagine having your outdoor garden wedding here when the Bougainville's flower blooming, It would brighten up the whole ceremony area without need to add any extra flower. See our real wedding at Puri Bhagawan here.
3. Glass House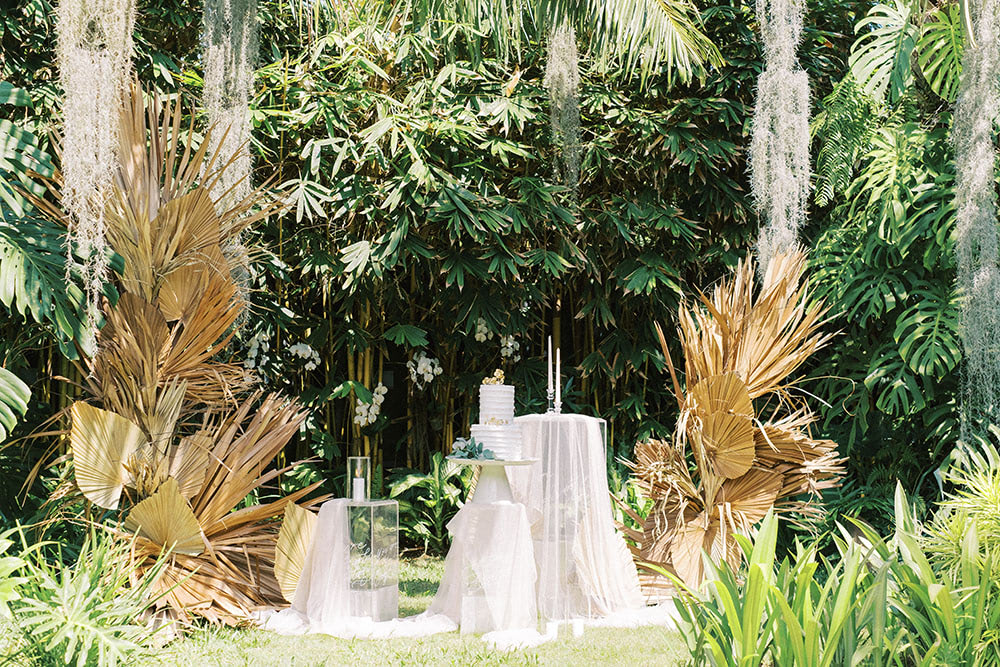 4. Bisma 8 Ubud
Bisma Eight lies in the heart of the natural and cultural of Ubud. A petite luxury, privately owned-boutique with a tropical modern personality rooted in the artisan heritage of the central island of Bali where ancient traditions are still practiced, and the authentic Balinese culture is well-preserved. Located in the prime area of Ubud village facing the western atmosphere capturing the island's most romantic sunset moments, its charming green rooftop, picturesque Ubud forests, and volcanos make Bisma Eight the most sought-after destination in Ubud for unforgettable and truly Ubud wedding venue. See the wedding at Bisma Eight here.
5. Kamandalu Ubud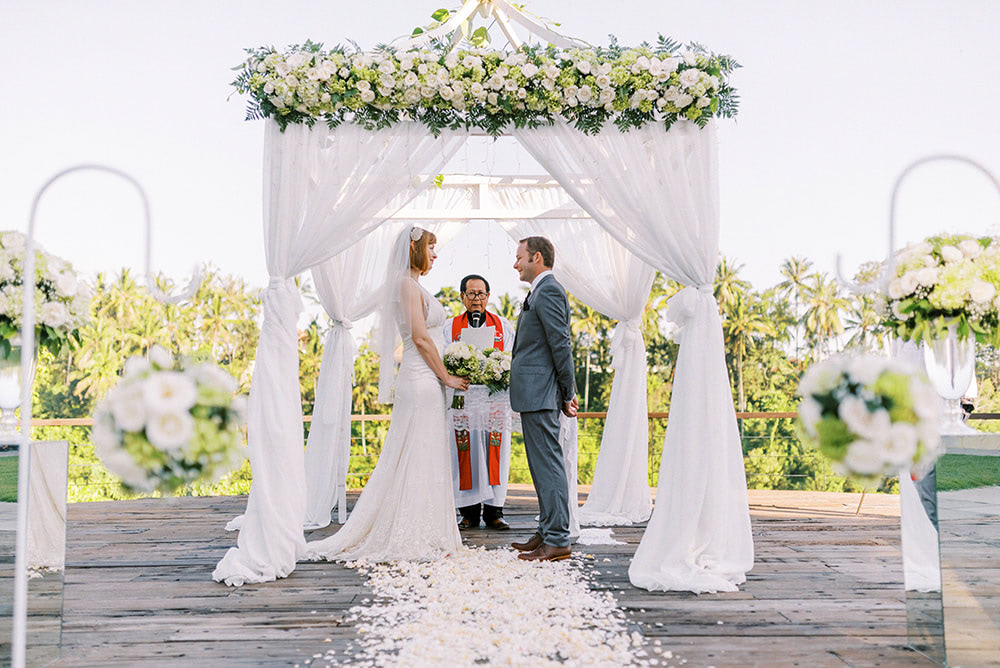 Designed to capture the essence of a real-life Balinese village, Kamandalu Ubud is a five-star resort that blends local tradition with contemporary style. Nestled in the green foothills of Ubud, the property is a boutique sanctuary featuring exclusive villa accommodations and supporting facilities. With an extensive landscape encompassing productive rice terraces and towering coconut palms, Kamandalu Ubud is a perfect Bali outdoor garden wedding venue.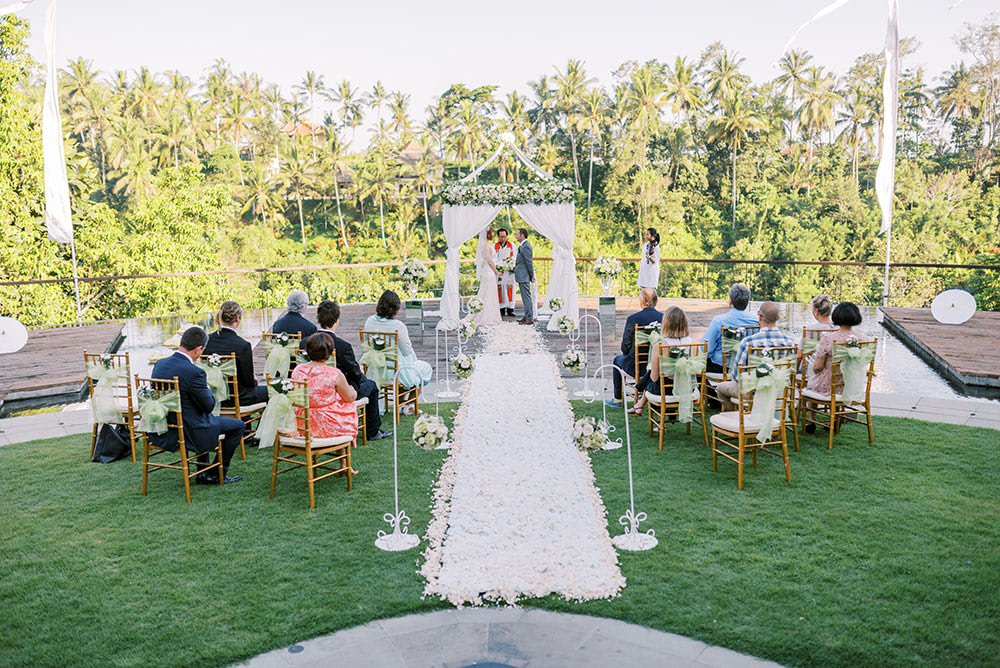 6. Teras Divya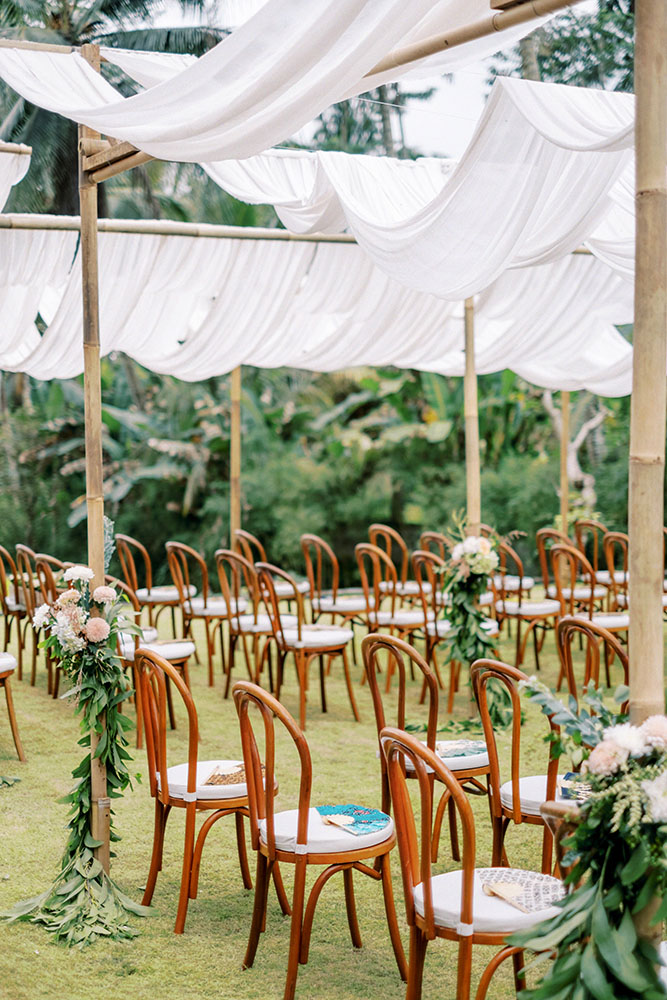 Set amongst the lush tropical landscapes of the authentic and tranquil village of Kelusa, Teras Divya is a stone throw away from Ubud yet far away from all the hustle and bustle. Nestled at the end of quaint road lined with groves of coconut trees, the buildings have been designed in stepped levels to blend into the cascading rice terraces that surround it.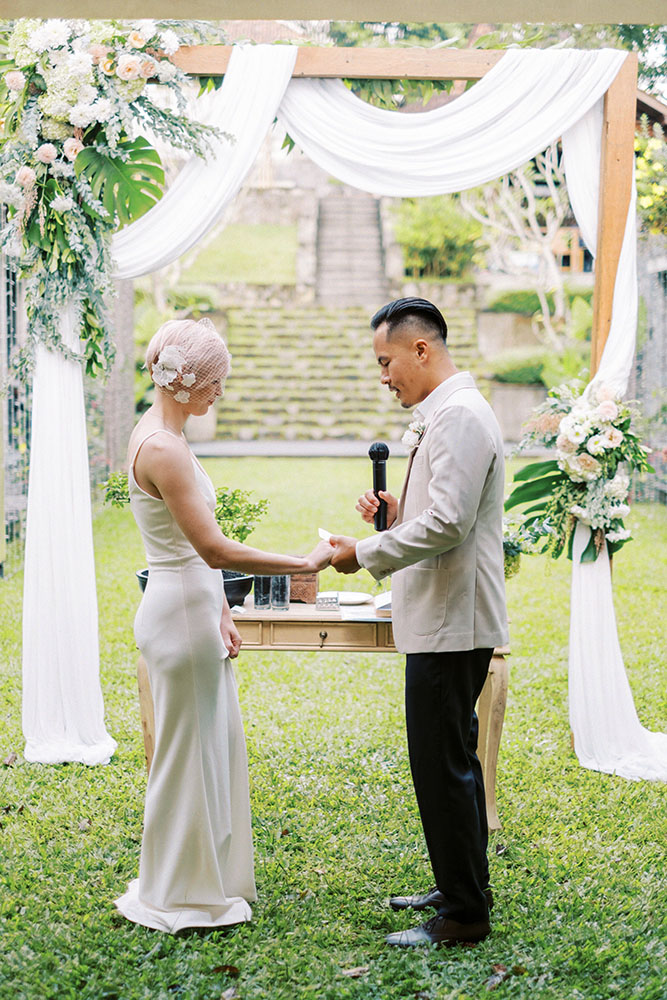 7. Constant Heaven Villas Tegalalang
Situated near the Tegalalang Rice Terraces, Constant Heaven Villas is a private villa that offer you a forest hills of Ubud surrounding. This small villa could accommodate up to 20 guests, perfect for your small wedding.