The most romantic places to propose in Bali. Besides being one of the best wedding and honeymoon destinations in the world, the island of Bali also has some of the most romantic places to propose your loved ones. From the stunning vista of Indian Ocean to the lush hill of Ubud, Bali provides some stunning locations to ask the most important question in your life.
I have experienced and captured some the most unforgettable romantic moments for Bali surprise proposal photography sessions.
The men often admirably go to a great length and preparation to propose to his future wife. On several occasions, I would come up with suggestions on how and where to do the proposal. To welcome the upcoming Valentine's Day and possible Bali proposal plan that you might have in mind, here is my recommendation on the most romantic places to propose in Bali that almost always guaranteed a 'yes' from the ladies!
1. Tegalalang Rice Terraces, Ubud
Bob and Vanessa Proposal Session at Tegalalang Rice Terrace
It is hard not to get stunned by the beautiful green terraced rice field of Tegalalang. The landscape provides a wonderful backdrop for a man who declares his love on one bended knee to the woman that he wishes to spend the rest of his life with. The catch is that if you don't go there early in the morning – you will have to share the uninterrupted lushness with tourists.
Andy and Lupe Proposal Session at Tegalalang Rice Terrace
The best way to pop the question is to ask your future wife to check out some of the dramatic lookout points or in the high roadside location where the view is absolutely breathtaking.
2. Blangsinga or Tegenungan Waterfall
Proposal of Alan & Natalie at Tegenungan Waterfall
Located strategically in between Ubud and Denpasar, these two natural attractions are easy to reach and beautiful to behold. I've had several gorgeous proposal photo shooting here where I had to pretend to be a guide and captured the emotional moment when the man suddenly got down to one knee and ask his mystified girlfriend the question that would change their lives.
Proposal of Haries and Neha at Tegenungan Waterfall
The water would cascades majestically behind them, a force of nature not unlike the bond that they would experience for the rest of their lives. Best time to propose? Definitely in the morning!
3. The White Dove at Banyan Tree Ungasan Bali
Perched on the dramatic high cliff of Bali's southern most peninsulas, the White Dove chapel is a venue unlike any other. The artful white dove sculptures on the façade of the chapel have witnessed plenty of joyous occasions and surprise proposals.
Ben & Amie's Surprise proposal photography at Banyan Tree Resort, Ungasan
A private dinner for two could easily be arranged. As the sky turns red, you can surprise your loved one by asking the important question in the romantic setting of the beautiful birds and the vast blue sky, which made this chapel one of the most romantic places to propose in Bali.
4. Kelingking Beach, Nusa Penida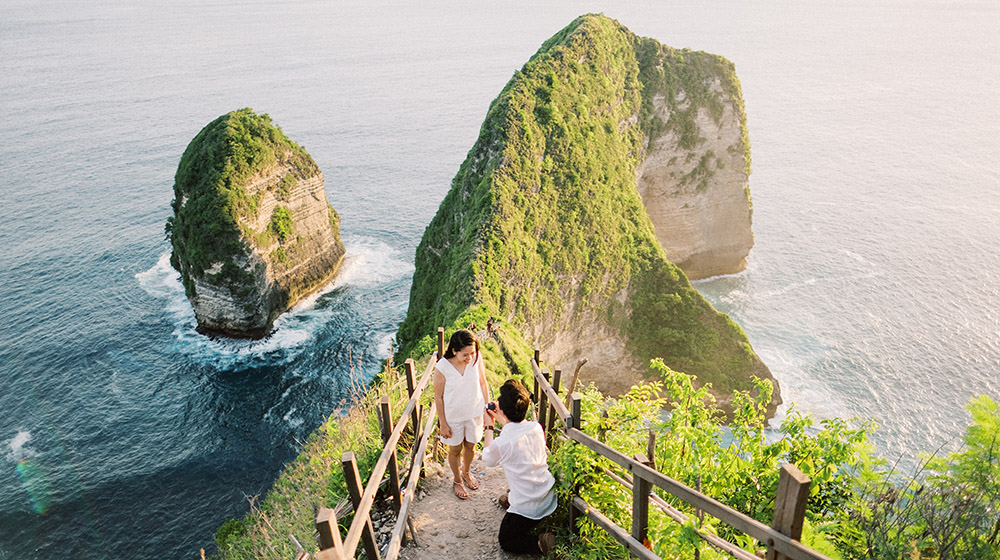 This hidden gem located on the southwestern coast of Nusa Penida Island, which is accessible via a 40 to 50 minutes boat ride from Sanur. The 200-meter high drop-down overlooking the T-rex head and the beach is just mindblowing for your Bali surprise proposal backdrop.
5. Melasti Beach, Ungasan
Engagement Session Turned Into Surprise Proposal in Bali
Sunset is another beautiful opportunity to do a romantic Bali proposal photo shooting session. Melasti Beach is definitely one of the best locations to do so. With its dramatic coastline and breathtaking sunset view, the beach would be the perfect setting for a life-changing moment between you and your loved one. The golden shower of red sky and dimmed light would create alluring images of a romantic couple at the beginning of their life together.
6. Kupu Kupu Barong Villas & Tree Spa by L'Occitane, Ubud
Parag and Mona proposal session at Kupu Kupu Barong
Misty jungle and the soulful stillness of this villa in Ubud may also be an interesting option to propose. The lush tropical landscape of Ayung Valley offers an intimate proposal experience like no other. Ask the villa's experienced concierge to arrange a dazzling romantic dinner set up by the infinity pool – and surprise your loved one by asking her to be your lawful wedded wife in the most romantic way that she will never forget.
7. Amankila Resort, Candidasa
Proposal of Kevin and Rose at Amankila Resort, Candidasa
The tranquil Candidasa Beach could become a wonderful setting to your proposal at this exclusive resort situated on the green hill of Indrakila in the eastern part of Bali. Staying at Amankila means to experience luxury and peacefulness. The beachside proposal photography that I have done in the past has proven that the resort not only gets better with age but offers an intensely intimate and romantic experience for a couple who are about to embark on a new life together. After she said yes, prolong the evening with a candlelight dinner on the beach.
Besides having the proposal at Amankila's infinity pool, you could also opt to do it at their villa entrances which offer a stunning greenery backdrop. The staff in Amankila was very helpful and accommodated during the plan.
8. Tibumana Waterfall
Tibumana Waterfall Bali Surprise Proposal Photography
Tibumana Waterfall Bali is one of the most beautiful hidden waterfalls 20 minutes ride from Ubud center. This location is perfect if you want quietness during the proposal but still getting a perfect setting. The peaceful sound of the waterfall will become a good ambiance during the emotional moment.
9. The Royal Pitamaha Resort, Ubud
Royal Pita Maha Ubud Surprise Proposal
Blessed with uninterrupted views of tropical greenery, The Royal Pita Maha Resort Ubud offers a great sanctuary for your surprise proposal. Propose your girlfriend on the resort's candlelight dinner set up over an infinity pool. Witness the sky turning into purple as you enjoy the romantic dinner talking about spending your future together.
10. Devil's Tears, Nusa Lembongan
Nothing says romance like a private proposal with the mesmerizing display of enormous waves continuously smashing against the rocky cove creating sudden massive ocean spray explosions.
Nusa Lembongan Island Surprise Proposal
Devil's tear is a beach located in Nusa Lembongan, around 40 minutes boat ride from Bali. If you want a thrilling surprise proposal this is a great place. But be warned don't stand too close to the edge as it can be very dangerous.
11. St. Regis Resort Nusa Dua
Beachside St. Regis Bali Dinner Proposal
Experience the luxury service during your surprise proposal in one of Bali Luxury Resort, St. Regis Nusa Dua. Pop the question at the picturesque ocean view, overlooks a pristine beach considered the most beautiful in Nusa Dua, Bali. Ask the resort to prepare the stunning arch for the dinner set up, like one below.
12. Swept Away Restaurant, The Samaya Ubud
A breathtaking Balinese natural landscape, the atmosphere of the Ayung river, 100 candles, and an abundance of flower petals arrangement will definitely persuade her to say yes. Swept away is The Samaya Ubud's iconic restaurant sits beautifully on the river banks of Ayung River.
100 Candles Surprise Proposal Dinner at Swept Away Restaurant Ubud
With a selection of comfort food Swept Away is ideal for a relaxing lunch or a romantic dinner for two. Special arrangements can be made for an intimate dinner by the waters surrounded by romantic candlelight with a special menu from the resort's chef.
13. Samabe, Bali Suites, and Villas
Surprise Proposal Dinner on Bali Beach at Samabe
Another great location for privacy and beautiful sunsets is Samabe, Bali Suites, and Villas. Blessed with a white sandy beach and naturally formed cave, the villas offer an exotic proposal experience by providing a unique beachside venue. Their concierge will also happy to help you with any proposal plan!
Surprise Proposal Dinner on Bali Beach at Samabe
Those are our lists for the most romantic places to propose in Bali. My recommendation to have the resort or restaurant serve up a bottle of predetermined bubbles after she says yes. What says celebration more than champagne?