Martin and Mia: Destination Bali Wedding Photography at Ma Joly
&nbsp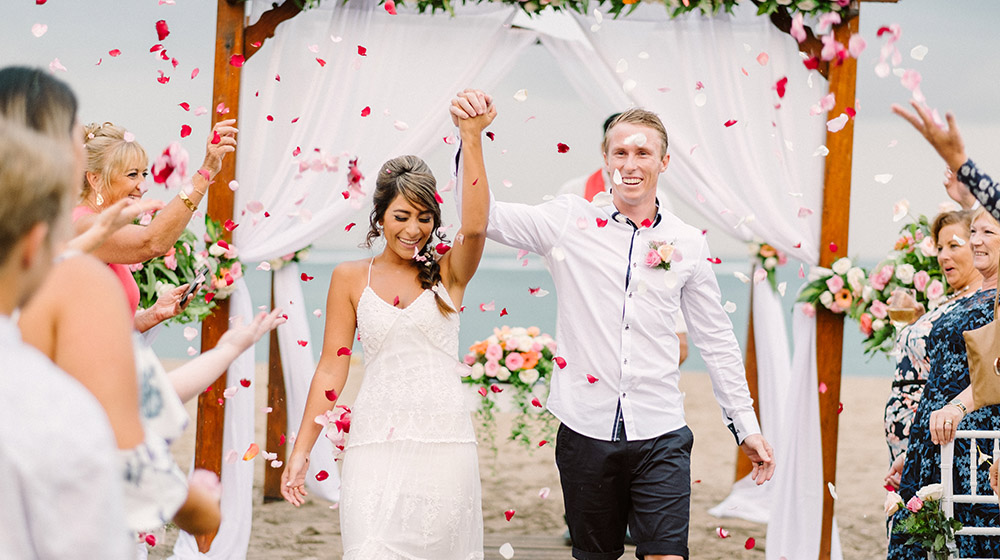 Destination Bali Wedding Photography of Martin and Mia. Mia was born on multicultural family, from a Balinese father, and western mother. Thus her family decided that they'll have a traditional Balinese wedding and western wedding in Bali.
Their destination Bali wedding photography took places at Ma Joly, an enchanted setting with a magnificent backdrop of the Indian Ocean makes the wedding an exclusive location for those seeking an intimate, quiet place in Bali. It was a bit raining on their wedding day, but the rain stopped right before the ceremony.

The traditional Balinese wedding took places in Mia hometown, Kuta. wedding ceremonies in Bali are of a different kind altogether. Weddings are considered a very important part of life for the Balinese because they are an implementation of yadnya, or ritual — a way to harmonize the material and the spiritual worlds. The wedding, or pawiwahan, becomes sacred because it is considered to be a testimony before three very important forms of witnesses: the gods, the beings of the underworld, and fellow human beings.


Unlike their western wedding which the bride wears white wedding gown and the groom wears suite, Balinese bride and grooms wear colorful wedding costumes with many attributes that has its own philosophy. Their wedding costume is not chosen by themselves, but it is already chosen according to the caste of the family. The typical material of Balinese wedding costume is Songket, with Golden threads layers, the color of the material is normally bright colors like blue, yellow, orange or red which represent happiness and celebration. The luxurious Songket also shown how wealthy the family and how high the level of the caste is. Other than the dress, the groom wears some kind of head cover that tight to the head while the bride wears some kind of crown with golden decorations.
Comments
comments